Commission Regulation (EU) No 1179/2012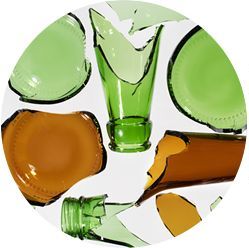 WHAT IS COMMISSION REGULATION (EU) NO. 1179 / 2012?
It is a regulation of the European Commission that establishes criteria for glass cullet and enters into force from 10 December 2012
---
The regulation sets the criteria for glass cullet:
the quality of glass cullet resulting from the recovery operation

the waste used as input for the recovery operation complies with the following criteria:

Only waste from the collection of recoverable container glass, flat glass or lead-free tableware may be used as input;

Glass-containing waste from mixedmunicipal solid waste or healthcare waste shall not be used as an input;

Hazardous waste shall not be used as an input.

treatment processes and techniques, such as:

Collection, separation and procession of glass cullet;

Mechanical adjustments necessary to prepare glass cullet for direct use
Key requirements for a waste processor:
Implement a quality management system in Your organization;

Monitor the quality of glass cullet at the entrance;

Monitor treatment processes and techniques;

Ensure the quality and purity of the output material;

Monitor radioactivity;

Issue a "declaration of conformity" for scrap;

Document procedures is a must;

Have the quality system certified by an accredited certification body.
An entity that fulfills these requirements and has a verified/certified quality management system can subsequently reclassify the glass cullet waste as a secondary raw material and offer it on the market as a product/goods.
The benefits of certification:
Increasing competitiveness on international markets – the possibility to trade with glass cullet as raw material and not as waste;
You will be ready if foundry and steel mills require only raw materials and not waste in the production process, so that they are not the subject to the permits and obligations of the WasteAct.
ASTRAIA Certification verifies and confirms the conformity of the quality management system with the given regulation. At the same time, we provide trainings for the interpretation of the individual criteria and requirements, which must be fulfilled by the certified subject in practice.