Commission Regulation (EU) No 715/2013 of 25 July 2013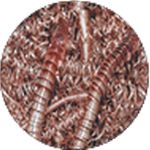 ASTRAIA® Certification, Ltd. has been dedicated to the verification of quality systems that contribute to meeting the end-of-waste criteria since 2011.
We have a rich international experience and a wide range of experts in this field.
The European Commission has issued a new Regulation (on iron, steel and aluminium) at the present), which sets the criteria for copper scrap and comes into effect on Jan 1st, 2014.
ASTRAIA® Certification, Ltd. also provides quality system verification according to the Commission Regulation (EU) No 715/2013 of 25 July 2013 establishing the criteria for determining when copper scrap ceases to be waste for the interested stakeholders, especially from the group of scrap metal processors, electric waste processors, collection companies, etc.
The Regulation sets out the criteria for the copper scrap:
the quality of the copper scrap resulting from the valorisation processes;
the waste used as input material for the valorisation processes meets the following criteria:

only the waste containing the recoverable copper or copper alloys may be used as an input material,
the hazardous waste must not be used as input, except the specific cases,
the sawdust and chips containing liquids, such as oil or oil emulsions and barrels and containers containing or contained oil or paint, shall not be used as input material, except for the equipment coming from end-of-life vehicles,

production and techniques processes such as:

sorting of the copper scrap at source,
the mechanical amendments necessary for the preparation of metal scrap for direct use,

in the case of waste containing hazardous ingredients, specific requirements are applied.
Brief requirements under the regulation which must be fulfilled by organizations:
to implement the management system to demonstrate the compliance with the criteria of the Regulation;
the management system must contain a set of documented procedures relating to the following aspects:

the quality monitoring,
the effectiveness of the radiation monitoring,
the monitoring of procedures and techniques of processing ,
the feedback from the applicant regarding the copper scrap quality,
the trainings of employees,
the revision and improvement of the management system.
The entity that meets these requirements and has a verified/certified quality management system may subsequently reclassify the copper scrap waste as a secondary raw material and offer it on a market as a product/article.
ASTRAIA® Certification, Ltd. verifies and confirms the conformity of the quality management system with the given Regulation. At the same time we are able to provide training in the interpretation of individual criteria and requirements that a certified entity must fulfil in a practice through our experts.